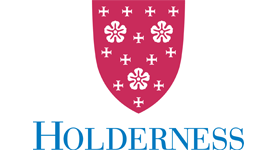 As the proud parents of a class of 2016 Holderness graduate, we can honestly say that we owe a huge debt of gratitude to Knower Academics. When we realized that our son needed an extra layer of support to help him at school, we reached out to Knower and they implemented the perfect plan. Ethan Paquin was the guiding force behind our son's tutoring and was our family's anchor throughout his senior year. We would highly recommend Knower Academics to any other family who finds themselves in the same situation.
Knower Academics is proud to partner with one of New Hampshire's longstanding independent boarding schools, Holderness School, to offer an integrated and specialized Academic Support Program.
Knower instructors encourage students to use the school's pre-existing support network, helping develop their executive functioning and time management skills to strengthen study habits and solicit extra help from faculty. Knower Academics also offers students who need subject-specific support the opportunity to review and sharpen their grasp of concepts and keep abreast of upcoming assignments and assessments. Our one-to-one Instructional Support Sessions target these specific needs, and benefit students by holding them accountable to face their hardest subjects a certain number of times per week; and our Evening Study Group reinforces self-starting and implementation of the strategies promoted in one-to-one sessions.
Along with the structure of regularly scheduled one-to-one Instructional Support Sessions and Evening Study Groups comes flexibility. Knower Academics works with student, parents, and teachers to tailor an Academic Study Plan customized to learning styles and needs. For those students who miss classroom time due to injury or illness, Knower Academics can also help fashion Academic Recovery Plans built around their necessary accommodations. For those athletes who find it difficult to balance school work with travel to sporting events, Knower Academics can employ a variety of strategies to ensure they remain on track in their classes. Lastly, families can adjust support at several key check-in points throughout the year, gradually adding or decreasing levels of support as needed to foster student independence and lessen stress.
Quarterly Academic Support Program
The Holderness Academic Support Program combines targeted one-to-one Instructional Support Sessions, continuity of care in Evening Study Group, and detailed Study Plans & Logbooks to facilitate communication between instructor, school and parents.
Academic Support Program Features at Holderness School
One-to-one, Customized
INSTRUCTIONAL SUPPORT SESSIONS

Target individual needs in an ideal environment for concentration and learning
Structured, Supportive
EVENING
STUDY GROUPS

Promote implementation of study strategies so students optimize their use of independent time
Integrated, Collaborative
STUDY PLANS AND LOGBOOKS

Clearly define goals and action steps, facilitating prompt dialogue between instructor, parents, and faculty
Quarterly Academic Support Package Options
Students who enroll in Quarterly Academic Support will choose to register for either a Two-Session Package or a Four-Session Package.
TWO-SESSION PACKAGE
FOUR-SESSION PACKAGE

One-to-one Instructional Support Sessions

2 sessions per week
4 sessions per week
Access to Evening Study Group
8 available hours per week
Duration of Commitment
One academic quarter
Number of Subjects Available
Support for one subject
Support for one
or two subjects
Customized Academic Study Plan
✔
✔
Logbook Communications
✔
✔
Support for Academic Anxiety
✔
✔
Support for Learning Disabilities
✔
✔
Instructional Support Sessions are conducted in a one-to-one environment and scheduled in student's free blocks or down time. Evening study group, a more structured alternative to study hall, provides additional executive functioning and homework support in a small group environment four nights per week. Knower Academics Instructor Logbooks keep parents and faculty updated about student needs and progress.
Core Support Areas
Each student in our Academic Support Program completes a thorough orientation process, during which we solicit information from parents, teachers, and the student to pinpoint our shared goals for the school year. The student helps to craft his own Academic Study Plan, in which objectives and action steps are defined and detailed. The study plan serves as the backbone of individual Instructional Support Sessions.
Each Academic Study Plan is unique; however, support typically focuses in one of the four main areas below:
Subject Foundations

Subject Foundations targets fundamentals to solidify knowledge base in the subject. This is an ideal offering for students who have a history of struggle in a challenging subject and need to remedy gaps in their skill set while staying up to date in their coursework.

Executive Skill-Building

Executive Skill-Building helps students manage their schedules and coursework, enhance their relationships with faculty, and make the best use of school structures. This is a popular offering for students transitioning to Holderness School, and also assists students of all ages in advocating for themselves, meeting deadlines, and balancing daily responsibilities.

Subject Support

For assistance with an especially advanced or difficult class, Subject Support helps students master concepts, manage tasks, and improve performance. This is the ideal offering for the students who seek self-challenge, want to excel, and look to build the practice of efficient study habits in challenging coursework.

Collegiate Skill-Building

The art of efficient learning, Collegiate Skill-Building explores a higher-level approach to executive skills for maximum proficiency and intellectual growth. A high-functioning student may earn strong grades in top level classes and yet still benefit from honing study and note-taking strategies. This is a specialized offering for students who look to achieve their fullest academic potential while balancing the rigorous demands of leadership and classroom/athletic obligations.
Continuity of Care
Students who enroll in Quarterly Academic Support will also have access to eight hours of Evening Study Group each week. Students who attend the study group will benefit from a more structured evening study environment that provides consistent reinforcement of the skills taught in their instructional sessions. To ensure consistent support for executive functioning skills, Evening Study Group helps students manage their time, schedule meetings with teachers, use school resources, break down tasks, and improve study habits. Evening Study Group is only available to students in Academic Support.
Collaboration & Communications
Successful academic support relies upon cohesive communication between parents, instructors, teachers and other mentor figures. The following methods of communication are used to ensure cohesive communication for students who enroll in Quarterly Academic Support.

Customized Academic Study Plans

The Academic Study Plan delineates and defines the student's goals and objectives for the time s/he spends in academic support with Knower instructors. While the student has a primary hand in shaping his or her own study plan, this is a living document reflective of consensus between parents, teachers, and advisors about student needs. As such, the Academic Study Plan can and should grow and change as the year progresses to provide the highest level of focus and coordinated coaching between parents, Knower instructors, faculty, and other mentors and advocates on campus.

Instructor Logbooks

Instructor Logbooks chronicle the successes and outcomes of one-to-one Individual Support Sessions, while also identifying weaknesses and making plans to address them. Generated after each session by Knower instructor and student, Instructor Logbooks are promptly shared with parents and Holderness faculty for dialogue, collaboration, and suggestions.

Knower Academics also fosters dialogue about students and learning through:
Conference calls upon request
Partnership with faculty & advisors
Presentations & seminars for families & faculty
Phone & email support for parents

Integrated Support
For those students who struggle with academic anxiety or have been diagnosed with a learning disability, Knower Academics has built into its Academic Support Program additional features and communications to create a comprehensive, holistic system.

Support for Learning Disabilities

Knower Academics instructors believe in the importance of identifying each student's ideal learning style and environment, and support for a learning disability is an extension of this philosophy. We explore a variety of learning and study methods to identify the nature of supports most beneficial to that student's own unique mind and personality, building confidence and independence and understanding of his or her own unique strengths and needs as a learner. For students with documented learning disabilities, the Academic Support Program will encourage student self-advocacy and partner with faculty to help implement documented accommodations.

Support for Academic Anxiety

Academic Support instructors are mindful that students may experience anxiety related to schoolwork. Knower instructors understand that anxiety surrounding academic work can manifest in a variety of unhelpful behaviors such as procrastination, low motivation, fatigue or avoidance. We help students address their anxieties in the classroom, self-advocate, prioritize, and stay up to speed in their work. For students who choose to engage support from school counselors or independent therapists, Knower Academics frequently collaborates and communicates with outside professionals to promote overall health and wellness.

If you would like to learn more about Academic Support at Holderness School or discuss a specific plan for your student, please contact us.

Learn more or register to get started   ▸

Also offered at Holderness School: