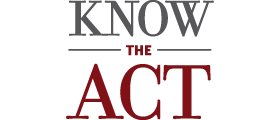 My daughter really gained a lot from the instruction that you guys provided and there was not one complaint the whole two months! That alone told me that you kept it interesting and she was engaged! And, the icing on the cake was seeing her scores increase on the ACT by four points!
The ACT assesses mastery through speed. Students taking this test need specialized strategies to demonstrate their academic abilities in the face of significant time pressure.
The ACT, an increasingly popular alternative to the SAT, presents students with questions that examine their ability to manage sequential processes and details within an uncomfortably tight time frame. While students must note the details and maintain their accuracy, the ACT also requires students to recognize global trends in data and use their common sense to recognize the simplest path to the answer. For students to succeed on the ACT, they must be well-versed in subject material, adept enough at problem solving to think logically in a stressful exam format, and skilled and careful as readers so as not to trip up on the little details.
Knower Academics prepares students for the ACT by teaching them to find the most efficient path to the correct answer. We teach data-mining and problem-solving techniques in the context of thorough subject review of material frequently tested on the exam. What does this add up to? Students get the tools they need to work more quickly and accurately on an exam that is predicated on speed.
Contact us to learn more about how our KNOW the ACT™ program builds these skills.