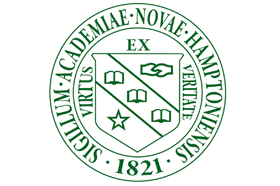 My daughter has really enjoyed her time studying with you and I'm so grateful for your time, effort, and kindness toward her over the last few months. I look at the money spent on tutoring as an investment in her and now potentially as a savings in the cost of college. She was so proud when we realized her scores had gone up! I couldn't be happier that all the hard work and initiative has paid off for her.
— Parent,
New Hampton School student
Build your College Résumé – with solid SAT® & ACT® Scores.
NHS Innovation Meets Standardized Testing
Bring learning full-circle – with test prep that's aligned to NHS culture and curriculum.
Since 2010, Knower Academics has proudly partnered with New Hampton to design SAT & ACT test prep options that are best suited for NHS students.
From their iPad program to Aleks Math and IB curriculum,  NHS is often on the leading edge of education. Students learn to think with depth and creativity, seeking insight and global connections, pushing the boundaries of perspective and knowledge. After this dynamic learning environment, it makes sense that, at first, NHS upperclassmen may feel a bit thrown off by the relatively outdated SAT and ACT exams.
Truth be told, many aspects of NHS education are light years beyond the SAT & ACT. Compared to NHS curriculum, the college entrance exams are rooted in more mundane concepts and literal interpretation of text, with a stronger emphasis on Common Core curriculum. Many questions use cryptic language that invites overthinking or causes students to doubt their own knowledge. Students might have covered the majority of exam content back in 9th, 8th, or even 7th grade. Also, driven students who want to tackle the hardest questions often find out, the hard way, that this sort of intellectual curiosity is not rewarded on a standardized test where every question is worth one point regardless of difficulty.
Our approach at New Hampton
In our NHS test prep offerings, Knower Academics promotes a strategic, informed and positive approach to the SAT, ACT and TOEFL® entrance exams. We help students understand how to think like the test writers and approach the test in a way that showcases their strengths and maximizes points. We review test material with a focus on areas that their classes may have moved beyond. We teach them what the test writers reward, and how this is different than their classroom teachers. We show students how to spot trick answers and flag the most difficult questions, so they can manage their time and effort on the test. For students with unique learning styles or learning differences, we enjoy exploring best methods for using accommodations and finding tactics to decode questions, keep the exams in perspective, and building confidence.
After many years of supporting NHS students in boosting their SAT & ACT scores, Knower instructors have learned how to help NHS students connect the dots between their innovative classrooms and the traditional college entrance exams.
Mix & Match


NHS Test Prep Offerings
We designed our 2021-2022 test prep offerings, together with college counselors, to give NHS students and families a range of options for their test preparation. One-to-one Instruction is always ideal. The ACT Baseline Test and Lunch Seminars offer more moderate options. Choose any of these offerings – or combine them as works best for you.
ACT ABRIDGED
BASELINE EXAM

Offered over two lunch periods, students will complete an abridged
pACT exam to compare with their pSAT.

*Includes our score report, detailed analytics, and self-study suggestions.
LUNCH
WORKSHOPS

A series of three lunch meetings will help students process and learn from their baseline exam by: teaching strategy, pointing out useful tips, and answering questions.
ONE-TO-ONE
TEST PREP SESSIONS

Always the gold standard in test prep, our expert instructors will help students build strategy, technique, and content mastery in the
one-to-one learning environment.
See below for details on each offering.
KNOW the ACT Baseline Test & Self-Study


abridged mock ACT with detailed analytics
Join us for a mock ACT, proctored on campus over two lunch periods.
$150 per student, minimum fill of 15 students
includes detailed analytics with self-study options
Registration opens: September 1, 2021
Registration closes: October 1, 2021
At NHS this year, Knower Academics will offer an abridged ACT for students who are interested in taking the real test in the spring. An excellent introduction to the ACT for students who have never taken one, and a great way to get a projected ACT score to guide your preparation. The perfect way to begin a course of test prep, the mock ACT will add value to the lunch seminars as well as one-to-one prep. Participants will receive a projected score a detailed BASE report to get the most out of this valuable resource and learning tool. The report will provide feedback that students can use to adjust their strategy on the test as well as recommended areas of additional study to focus preparation.
ACT English & Math Tests, lunch period, date to be determined
ACT Reading & Science Tests, lunch period, date to be determined
Learn more about our KNOW the ACT mock exam and BASE report.
Questions?
To schedule a free consultation email learn@knoweracademics.com or call 603-238-3283.
SAT & ACT Lunch Workshops


designed for NEW HAMPTON upperclassmen
Grab a bite and talk shop with our test prep specialists, at three lunch meetings.
ACT Baseline recommended, but optional, for participants.
$250 per student, minimum fill of 15 students
Registration opens: September 1, 2021
Registration closes: October 1, 2021
Quick, simple and to the point, our lunch workshops are designed to give students a good introduction to the SAT & ACT, and give them a mechanism to study systematically and get expert support for their questions. A relatively fun and low stress approach to test prep or a perfect introduction to a more rigorous course of study. A good, cost-friendly option for a motivated student willing to study independently.
SAT/ACT Scoring & Strategy, lunch period, date to be determined
Grammar & Reading Tips & Tricks, lunch period, date to be determined
Math & Science Tips & Tricks, lunch period, date to be determined
Questions?
To schedule a free consultation email learn@knoweracademics.com or call 603-238-3283.
One-to-One Test Prep


for the SAT,® ACT,® OR TOEFL®
Study for the SAT & ACT at your own pace and on your own schedule.
Please contact us or continue to registration for more information about pricing; register early to avoid peak rate charges close to test dates.
In this fully customized offering, students will work with their instructor to create a study plan that supports their goals and balances exam preparation with other academic priorities and time commitments.
Free consultation
Sessions begin with a welcome meeting
Once or twice weekly coaching sessions are scheduled during the student's available times up until the test date
Learn more about the benefits of one-to-one test prep ▸
Questions?
Please email learn@knoweracademics.com or call 603-238-3283.